Lilly of the West
"Lilly of the West" was formed in 1996 by Lilly Drumeva in Sofia.
Shortly after releasing a debut album, the band toured successfully throughout Europe and the US, winning European and international bluegrass music awards.
"Lilly of the West" has a large repertoire, including country, bluegrass, swing, jazz and Bulgarian folk music. The band has released 9 albums to date. The latter – "Swings & Heartaches" is a collection of jazz & swing standards from the 1930s/40s.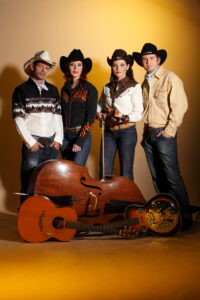 Musicians:
Lilly Drumeva – lead vocal, guitar
Yasen Vasilev – vocal, guitar
Michail Shishkov – Dobro, harmonica
Svoboda Bozduganova –upright bass
Facebook of the band – https://www.facebook.com/lillyofthewest