"In The Mood With Lilly – 50 Music Themes" is a book by Bulgarian artist and writer Lilly Drumeva.

It is based on her famous radio show, which has been on air since 2003.
Her weekly 2 hour program features a fine selection of hits, from the 50s, 60s, 70s, 80s and 90s. She describes the stories behind the songs and gives interesting facts about their performers, writers, producers and record labels. Lilly also entertains the audience, by sharing personal experiences, memories and laughter. The show is inspired by Glenn Miller's melody ("In The Mood") which is used as an intro.
To celebrate the 10th anniversary of her program, Lilly decided to write a book containing fifty music topics, compiled in ten chapters:
"The Music Genres" gives an overview of country, bluegrass, swing, boogie-woogie, rockabilly, blues, rock and roll, folk-rock, soul, disco and new wave. Lilly describes the history and nature of her favorite music styles, by giving examples and personal comments.
"The Hits" gives an insight into the major historical events from 1940 to the present and their effect on popular music.
"The Greats" pays tribute to some of the most significant songwriters, producers and record companies in music history.
"So Emotional" reveals some of the most beautiful "sad", "happy" and "love songs" of the 20th century.
"So Knowledgeable" explores the music of three countries – France, Germany and USA, where Lilly has resided.
"So Glorious" recognizes the greatest male and female voices including music duos, trios and quartets.
"So Entertaining" presents songs about food & drink, rain & sunshine, cities & countries, colors and animals.
"So Interesting" delves into some of the best movie themes, road songs and family bands.
"So Informative" is a chapter about the most successful debut songs and "one hit wonders", based on Billboard's statistical data.
"Selected" looks back at some of Lilly's most memorable radio programs, such as "The Story Of Elvis", "Country & Rock Legends In Heaven" and "Christmas Around The World".
"In The Mood With Lilly – 50 Music Themes" is a book for music lovers and young people, who aspire to become music presenters. The forward is by Bulgarian radio legend Tommy Sprostranov, with whom Lilly has a long lasting professional relationship.
Lilly Drumeva is a singer, songwriter and music producer. She formed Bulgaria's must successful country and bluegrass band "Lilly of the West" in 1996 which is still active today.
The group has performed in many European countries and the US, winning prestigious awards. Lilly has released 9 studio albums and has organized several country music festivals. She is a renowned music journalist and radio presenter (BBC, Balkan Bulgarian Television, Retro Radio, Radio Sofia).
In 2013 Lilly received a Fulbright scholarship to study music in the United States. The results of her research have been a major contribution to this book.
---
'In the Mood With Lilly' – A Two-hour Weekly Music Program on Radio Sofia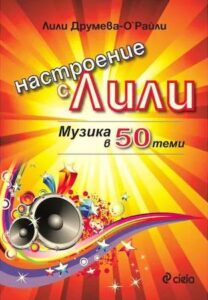 'In the Mood With Lilly' is a renowned  music program presented by Lilly Drumeva on Bulgarian National Radio. It started back in 2003 on Retro Radio (one of the first Bulgarian private radio stations). In 2007 it moved to Radio Sofia (part of the State National Radio). The title of the show is inspired by Glenn Miller's famous melody, 'In the Mood'.
The concept was to provide high-quality, tasteful music and entertainment. Once a week, within 120 minutes Lilly selects songs from different genres (rock'n'roll, blues, country, soul, gospel, disco, folk, pop, R'n'B) and combines them to match a particular theme. Among her best programs were such as 'Sad songs say so much', 'Songs for a rainy day', 'Country and rock legends in Heaven', 'On the road again', 'Family bands', 'Colour songs', 'Food and drink songs' and many others. The main focus is on retro music from the last century, hits from the 50s, 60s, 70s, 80s and 90s.
The program features also live interviews, guest appearances and fresh new music, as well as information about interesting cultural events. Many of the top Bulgarian musicians and celebrities outside the music industry have been special guests on Lilly's show. Often, she reports about interesting book releases, workshops, seminars and celebrations.
The presenter invites also foreign diplomats who share interesting things about their countries and present unique, authentic music. The ambassadors of Ireland, Germany, Romania, Serbia, Hungary, United States, Austria have already been featured on her show. Lilly keeps up-to-date with new trends and informs the audience about upcoming events and interesting news.
'In the Mood With Lilly' has a large audience. It is heard in Sofia, Plovdiv, Samokov, Kyustendil, Botevgrad and it is licensed to Radio Nova Zagora and Radio Berk. At the moment it can be heard every Thursday at 8:00 P.M. on 94.5 FM and online http://player.bnr.bg/?p=3
---
Review of Lilly's first book   "In the mood with Lilly – 50 music themes", released on 29th September 2014
There is no fan of country music in Bulgaria, who has not heard of the Lilly of the West band. Its founder is Lilly Drumeva. Furthermore, she is also a producer, radio host, songwriter and much more when it comes to music. A pleasant surprise for all music lovers is the decision of Lilly to collect her knowledge in a book.
In an interview with Radio Bulgaria she told us more about her book:
"The book is based on 50 scripts for my radio show. This year it celebrates its 10th anniversary. 2 years ago I accidentally discovered some old scripts in my computer. I decided to use them in order to write the book. I added a lot more topics and collected all my music knowledge and experience from the past 20 years in it. "
The book has a circulation of 1,000 copies but it has not been officially presented yet. This will happen during the second half of September. The 300-page book contains photos and 10 chapters covering a total of 50 topics. "It took me about a year and a half. I was working mostly during the night and weekends. I did not stop with my other professional commitments," Lilly Drumeva says.
We asked her if she had a favorite chapter.
"Yes, I love the chapter about sad songs. They tell us a lot and we must respect the musicians who have revealed their souls and shared their grief with us. Another favorite chapter is "Off the charts songs." In an album there are 2 or 3 hit songs and the rest seem to just fill up the gaps. I pay attention to them and very often these songs are better than the hits. I focus on the whole work of an artist and the songs that remain off the charts need to be brought out."
Before writing the book Lilly Drumeva read a great number of music books, most of them coming from the U.S. Over time, after gathering much experience and knowledge the idea how the book should look emerged. Each chapter begins with an explanation concerning the specific radio show before the topic is presented in details. There are no doubts creating such an encyclopedia required much effort.
Lilly's energy is inexhaustible because it stems from her passion for music. She has been interested in it since she was a child.
She used to sing in the Children's Choir of the Bulgarian National Radio and learned a lot from the huge music collection of her father Christo Drumev. In 1996 she and mandolin player Rosen Hristov created "Lilly of the West." Over the years the members of the band changed, but they were mainly Bulgarians. The band often has concerts in Sofia. On the 29th of August, 2014 all country music lovers would be able to enjoy the concert of the band in the Borisova Garden in Sofia, starting 6 pm.
Lilly Drumeva says foreigners see Bulgarian music as something unique and exotic. Of course, folk songs are refracted through the prism of country and jazz music. The albums of "Lilly of the West" always contain 1or 2 Bulgarian songs.
The new book "In the Mood with Lilly – 50 Music Themes" pays attention to everything related to emotions and the nature of music. Providing detailed information about great musicians, the book could easily turn into a modern music encyclopedia.
Author: Deyana Borissova
English: Alexander Markov