"Music is mostly about making friends…"
Interview with Interview with Buddy Spicher, legendary fiddle player,
© Lilly Drumeva-O'Reilly.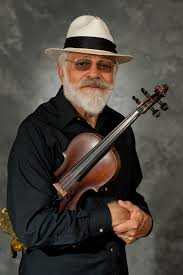 On 1st of September, 2013, just a day after my arrival in Nashville, TN. I had a unique opportunity to interview a real legend – Buddy Spicher! He is a renowned fiddle player and professor at Belmont University. His career started in the 1950s and continues to this day. Buddy is a recipient of numerous awards and a respected person in the recording industry.
He is a real gentleman, talking in a quiet and calm voice. Here is what he shared with me:-
-Where does your name come from?
I guess it is German, or Swiss. The original spelling was "Speicher" with an "ei". My people came in the 1700s and settled in the Maryland area. Their town was called Spies, on the Rhein River.
-How did you start playing fiddle?
I grew up on a farm in Pennsylvania. My uncles played fiddle. My brother taught me to play rhythm guitar first, which was a blessing in disguise. In order to improvise, you have to learn the chord progressions first, the structures of the songs. I did this and when I picked up the fiddle later, I could improvise because I subconsciously remembered the chords.
-How old were you when you started playing the fiddle?
I was 13. I was 11 when I started playing guitar.
-How did you move to Nashville and become a session player?
In the early 1950s, I started playing live on the radio in West Virginia, a show similar to WSM. I was more a "back up guy," which is what I still am. I moved to Nashville in the early 1960s. I learned to read music and started playing on a lot of recordings.
-To become a "Nashville cat", is it required to read music?
Well, the best musicians I met don't read music! They improvise. They learn to some extend to read chord charts and then use their creativity.
-Name some of the musicians you played with back then?
Chet Atkins, Owen Bradley, Hank Snow, Ray Price, Webb Pierce. I was on the road with some of these guys; in the early 1980s, I recorded with George Strait;
-You have played also with Audrey Williams, Hank's widow?
Oh yes, she was the one who brought me to Nashville. She passed through my town and was looking for a fiddle player. She said, "If you want to move to Nashville, I can promise you 8 days a week of work."
-What are your favorite fiddle styles?
I like Cajun and I like western swing, a little bit of bluegrass. I was good in playing harmony in bands with twin fiddles.
-Is it more difficult to play harmony than lead?
Yes, it is. You have to know the chords and you have to know how to do it. I was actually faster playing the harmony than the lead. I usually play one part above and one part below, so that it sounds like a 3-part harmony.
-You have played with Asleep at the Wheel?
Yes, sure. I recorded on their first 3 albums. I also recorded 3 albums with Bob Wills when he came to Nashville.
-What is the difference between fiddle and violin?
It is just a term that they use back and forth. A fiddle is usually improvised and a violin is usually written out music. There is no difference in the instrument. Sometimes, we fiddle players have a flatter bridge, because we like to play double stops. The "twin fiddles" are like the poor man's orchestration.
-Can you play vibrato?
I can, but it is not as natural. I use double stops instead.
-Do you warm up before playing?
Yes, I practice the tunes in odd keys such as C?, B?, just for the exercise.
-What do you like about country music?
I like the old style of Hank Williams. I loved his recording of the "Lovesick Blues." He is the ultimate to me. I like the realness and honesty of country music. When you listen to the lyrics, you feel inspired to play something in order to complement the singer.
-Do you like bluegrass?
Yes, I played with Bill Monroe, which was a very special sound. He created it.
-But you like more western swing?
Yes, the 4/4 shuffles like what Ray Price did; a smoother western swing sound. "Crazy arms" is the best example of it. It wasn't really worked out. The bass played a walking line and then the piano played something else to match (it was usually Floyd Cramer), so it was more of a jazz sound.
-Who are you favorite fiddle players?
I was influenced by Dale Potter. He is the one who played on some of the early Hank Williams stuff. Later on, it was Jerry Rivers and Tommy Jackson;
-Tell me about your students at Belmont?
They are mostly violinists who like to learn to improvise. I teach also how to back up a singer. My colleagues are Billy Contraries and Tammy Rogers, who teach jazz.
-Buddy, it was so nice meeting you, thanks for the interview!
You are welcome Lilly! It is all about making friends and meeting nice people. You have to be able to play a little bit, but music is mostly about making friends.