Somebody dropped a knife on an acoustic guitar and it made a funny sound…
Interview with Kayton Roberts, legendary steel guitar player
© Lilly Drumeva-O'Reilly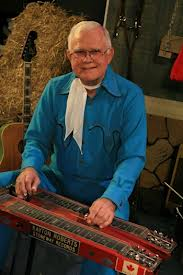 In October 2013 I played in Franklin, TN and appeared on John Hamilton V's internet show "Viva NashVegas". There I met Keyton Robert, legendary steel guitar player who shared with me this:
You have played with Hank Snow in the 60s?
Yes, Hank played the old style. He wanted me to play the old style, without pedals. He had a hard life. His mother and father separated when he was a kid. His mother married a vicious man. Hank had to make a living on a fishing boat, just to have something to eat. He was a very private person. His story would make a great movie.
How did you start playing the steel guitar?
My dad is from Florida. He had a band and wanted me to play bass. I hated that thing, so I chose the steel guitar.
What is the origin of the steel guitar, Hawaii?
The popularity of it started in Hawaii, then it breezed out to The States. There, they still play the old style, like me.
How was it invented?
I heard the story, somebody dropped a knife on an acoustic guitar and it made a funny sound….They liked it and started making beautiful music ?
Who influenced you?
Joe Talbot, a great steel player.
The pedals are for bending the notes, right? How to you do it without them?
Like the Dobro players, I pull the stings behind the bar. I do a lot of slides. But you have to be real careful how you do your slides.
I think when the pedals came, the steel guitar started to sound more electric, a bit like a synthesizer?
Yes, that's what happens with technical developments. The guitars play the men! And they all sound alike.
Thanks you Kayton, it was nice meeting you!